Esquire recently hosted a poll for what readers believed was their "Life Changing Burger". Readers, overwhelmingly, voted that Seattle's own Dick's Drive Thru was the most Life Changing Burger.   With all due respect to Dick's and its local history, I just have to disagree with the voters.  Having both lived in a number of locations and tasted a few burgers in my time, I had sampled 50% of the surveyed burgers. 
Dick's – yeah, its good.  Very old fashioned, cash only, small menu, no special orders.  The burgers are good, but to me, very similar to a McDonald's cheeseburger.  Small, not very filling.  Pickle, sauce, eh-bun.  I don't know.  I was underwhelmed when I tried this burger for the first time last summer.
In & Out – while I wouldn't declare this to be my "life changing burger", it's up there.  I had my first In & Out when I was dating A and visited him in CA.  The fries, the made to order burger,  the bible verses.  Wow, I would fly to LA right now for an In & Out burger.  It may not have changed my life, but boy, is it delicious.
Ray's Hell Burger – This Arlington burger joint is part of the Ray's empire in the Other Washington.  Ray's the Steaks is probably one of, if not the, favorite restaurant of mine. However, I think Ray's Hell Burger is trying a little too hard on too many levels. They want to be a little too Soup Nazi, a little too "crazy", a little too big burgers.  I enjoyed my meal here, but I just haven't had the desire to return.
Steak and Shake – I think this one should not be included in the list.  Too fast foodie and really more of a patty melt than a burger.  The fries aren't great.  My time in the Midwest gave me some opportunities to sample this burger and I really don't recall too much about it.   It rated fairly low in the survey, which I find unsurprising.
Five Guys – So think back to a time before there was a Five Guys in the Emerald City.  Before there was a Five Guys in North Carolina.  When there was a Five Guys in downtown DC and that was it and you had to make special plans to go.  That is what life was like the first time I had Five Guys and yes, that was life changing.  It was my first, non-fast food, not $12 restaurant burger.  It was juicy and fresh and delicious.  I could personalize my burger with mushrooms and onions but it didn't have 13 other ingredients on it like Ray's.  The fries are very similar to In & Out, but just a little thicker (and since I had them first, they stand out more in my mind).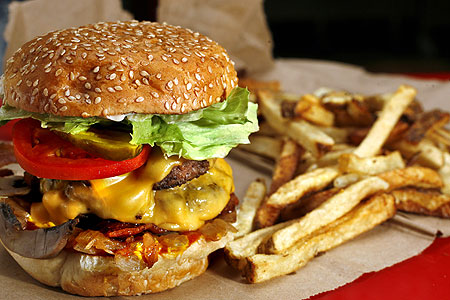 The specialness of Five Guys may have been diluted by its recent explosion, but it will always be to me the burger that changed my life and taught me what a great burger is really like.