To my Bear,
Here you are already – your second football season! (I suppose we could say it was your third season since you arrived with more than 2 quarters left in the 2011 Super Bowl, but let's only count full seasons.) Last year's season was one of the greatest you will see as a football fan – and at the same time, one of the worst. Look at you here – so full of hope as we sent you off to day care the Friday before the Super Bowl. So happy that this time, this time Tom Brady would not blow it with an interception and your first football season would be capped with a Patriots Super Bowl victory.
Then there was this.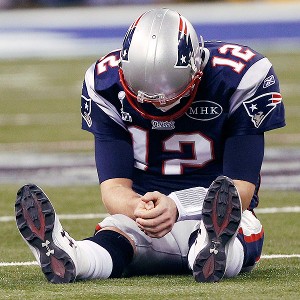 That was a rough night for your mom. Not only did no amount of Patriots swag or beer drunk from a Patriots mug turn the night around, but you turned one the next day. I cried myself to sleep that night (perhaps aided by the amount of beer I had) but so sad that you were growing up so fast. Your dad suggested that if the Pats had won, I would not have been so maudlin, but we may never know.
Here we are again. You are such a different little person than you were in February. Clearly hardened after that Super Bowl loss, not to mention two first round exits by your favorite college basketball teams, a Baylor women's basketball win and the all but cancellation of the UConn men's 2012-13 season. You are truly a sports fan now. You love to play basketball (and by play I mean carry the ball around and ask someone to hold you up to the hoop) and you hold your hands over your head and yell "touchdown!"
Despite all the sports setbacks in the last year, you have proven yourself to be your father's daughter. You watched a Rex Grossman season and yet here you are – declaring the Redskins to be number one this year and ready for the RGIII era to begin.
Sure, you've heard that no one picked the Skins to do better than 3 wins this season, but you, in your DC sports fan heart, know that they can and will to do better. After all, at least Graham Gano isn't kicking the ball this year.
LC, thanks for taking something your parents love so much and making it so much more. We know you'll grow and one day refuse to let us put you into the jerseys of our own choosing, (Your favorite colors are purple and yellow, so it is possible there is some PAC-12 brainwashing going on at your day care.) but we're glad we have this to share with you. I look forward to some cozy afternoons on the couch, shouting touchdown, while you enjoy blueberries and Momma eats baked potato skins. (Baked potato skins are not for LC's, sorry. Blueberries only, kid.)
Love, Momma